Welcome to Birthday Bouncers , below is a list of bouncy castles aimed at children, all of our bouncy castles are also available as part of packages, this option gives you a chance to hire more then one castle at a time and receive a discount for doing so. For more information on the bouncy castle of your choice simply click on the image or where it says "Click here for gallery" in this page you will also be able to see any associated packages.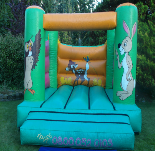 Dimensions: 14' x 12'
Theme: Princess


A fantastic addition to any party!
14' x 12' Jungle Bouncy Castle
14' x 12' Princess Bouncy Castle
14' x 12' Tom & Jerry Bouncy Castle
14' x 12' Football Bouncy Castle
12' x 16' (8' High) Mickeys club house
14' x 12' Thomas the tank Bouncy Castle
10' x 12' (8' high) Mickeys Den house
14' x 12' Winnie the pooh Bouncy Castle
14' x 12' Pirate Bouncy Castle
17' x 14' (10' High) Jungle Castle & Slide
14' x 12' Scooby-Doo Bouncy Castle
14' x 12' Balloon Bouncy Castle
14' x 12' Power Rangers Bouncy Castle
14' x 12' Star Wars Bouncy Castle
14' x 12' Super Heroes Bouncy Castle
14' x 12' England Bouncy castle
10' x 12' (9' High) Peppa pig bouncy castle
10' x 12' (9' High) Hello Kitty bouncy castle